EL PRESIDENTE COMPLEX + BEACHES + RESTAURANTS
What makes El Presidente so special?
The El Presidente complex has an extremely spacious layout and is constructed in a beautiful traditional Andalusian style with magnificent gardens. A significant number of people, including ourselves, live in El Presidente throughout the year so it always feels occupied and never like a ghost town! In addition it has a tranquil, safe, friendly and relaxing atmosphere and is just 250 metres from the beach.
The extensive, mature, beautiful and colourful sub-tropical gardens and lawned areas are extremely well maintained, complimented by cascading water gardens and fountains (modelled on the Alhambra Palace in Granada) and delightful walkways.
Join us here and you too can wander through the elegant walkways and beautiful sub-tropical gardens, enjoy the six swimming pools (one is scheduled to be heated from autumn through to spring); take the short stroll to one of many nearby wonderful restaurants or bars; stock up at our local ALDI supermarket that is just 450 metres away; or play a game of tennis, padel, football or basketball on one of our free courts or enjoy a round of golf at one of our many nearby courses.
Everything that you will need for a wonderful holiday is either here in El Presidente or close to it.
In addition, as we live here with our family, we will be able to meet you personally and take you across to one of our apartments.
There's also free parking, as well as 24hr monitored security and also lifeguards during the summer for your peace of mind.
El Presidente is in a great location close to Marbella, Puerto Banus and Estepona. Fortunately our complex is, in our opinion, ideally located because we are close enough to enjoy all that Puerto Banus and Marbella have to offer whilst at the same time enabling us to live in a tranquil and beautiful environment.
El Presidente is also rightly considered to be an extremely special place with its substantially more spacious original phase apartments (where ours are located) that are maintained to a very high standard.
Just 45 minutes from both Malaga and Gibraltar airports and with an express bus service from the former to Marbella Bus Station, getting to El Presidente is very easy.
Should you wish, we can ask our lovely local taxi driver to collect you from Malaga Airport and bring you safely and easily to El Presidente at a much cheaper rate than that charged at the airport. Please note that almost all taxis here can only carry a maximum of 4 passengers.
There is also a local bus service just outside of El Presidente connecting us with Marbella and Estepona as well as a taxi rank at the entrance should you prefer not to hire a car or to have some time off from driving!
Four tennis courts are free to use
Looking towards the entrance to our KENT apartment and the fabulous water gardens
Beautiful sub-tropical gardens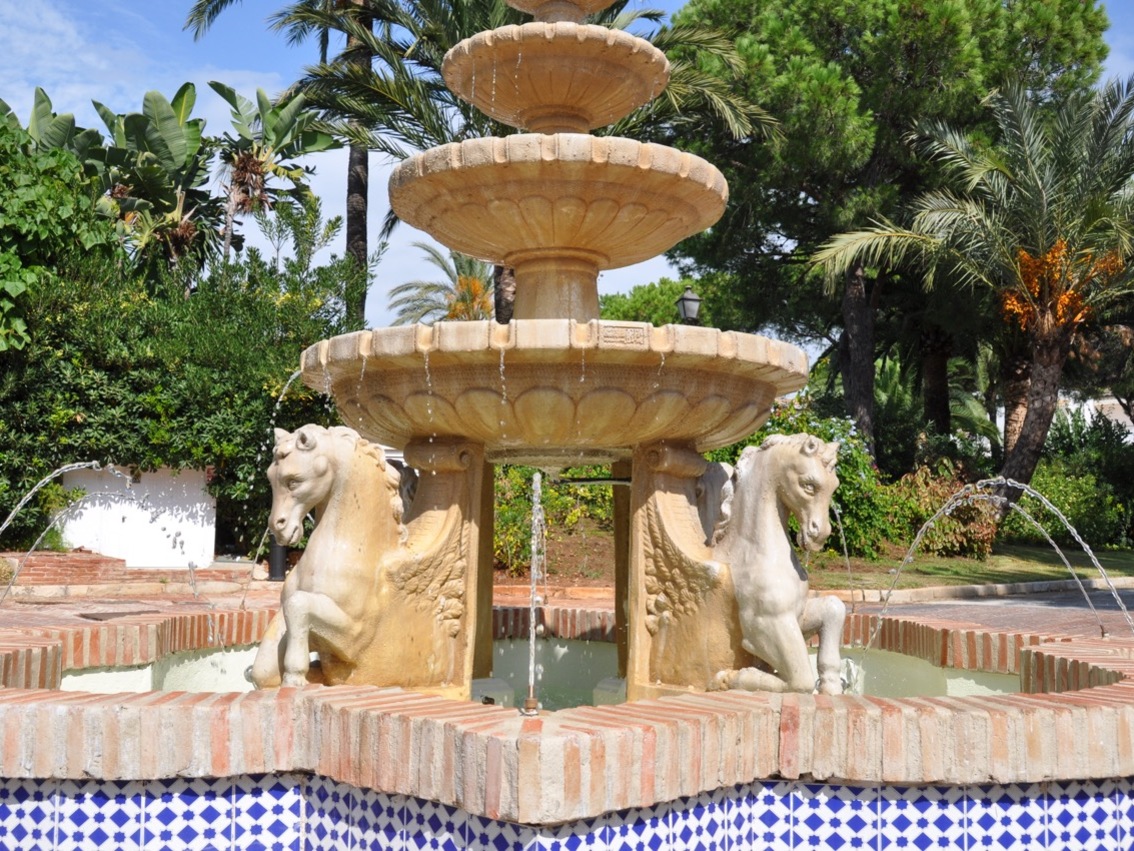 Two padel courts, a basketball court and a small football area
The wonderfully relaxing sound of cascading water
EL PRESIDENTE BEACHES AND THEIR CHIRINGUITOS
Separated by a narrow stretch of woodland and unspoilt sand dunes between the complex and the sea, it is just a few minutes walk to our predominantly sandy beach - Casasola / Isdabe Beach.
Here you will find sun loungers available at two of our local chiringuitos (beach bar /restaurants), "La Vela Azul " and "Salduna Beach", as well as nearby "Pepe's", all of them open from the spring to the autumn for lunchtime and evening drinks and meals - truly wonderful places to relax, sit and gaze out to sea, Gibraltar and Morocco!
Easily accessible by car are the lovely beaches of Marbella, Puerto Banus and Estepona.
Whereas our beach is at the mercy of the storms, winds and tides so the amount of sand can vary, the nearby beaches in Marbella, San Pedro, Puerto Banus and Estepona are always repaired and replenished in the late spring.
Slightly further away are the magnificent beaches at Bolonia and Tarifa (the latter especially renowned for wind surfing).
Playing on our local Casaola / Isdabe beach
Our nearest chiringuito is La Vela Azul
Our local Isdabe / Casaola beach is just a few minutes walk away
Also a few minutes walk away is the
Playing on our local beach
A 3rd beach bar restaurant is
Alfresco dining at Club Playa
EL PRESIDENTE RESTAURANTS
Just outside of the El Presidente complex and within walking distance, there is a wide range of excellent restaurants and bars with a diverse array of cuisines on offer including:
Spanish
Mediterranean with an oriental twist
British
Lebanese
Indian
Tex-Mex
Cuban
Argentinian
Italian
Chinese
Multi-National
Sushi
German
Thai
As with so many of our local restaurants, people will travel for miles to visit them and for us they are so close and walkable!!
Whether it it be the cooler days of winter when the inviting interiors will provide a cosy setting or the glorious summer nights when it's possible to dine under the stars in their scented gardens or beautiful terraces, you can enjoy wonderful food, tremendous wine, divine cocktails and friendly service.
Almost all of our local restaurants are open throughout the year, cater for families with children and increasingly also offer vegetarian and gluten-free options.
A massive bonus is that you will not need to drive to any of them as our closest bars and restaurants are just a few minutes stroll from our apartments.
Chilli restaurant - Indian & Tex-Mex
There are many wonderful restaurants within close walking distance of El Presidente
Los Arcos bar restaurant and children's play area.
Tanino's - Mediterranean cuisine
L'Oriental Lebanese restaurant
Robin Hood - British restaurant
Steak & Ribs Shak restaurant